I've tried searching the forum and haven't found much about this, so I was hoping to get a conversation going. I've been doing some research on a new desk for my hybrid analog/digital control room, and have found some potentially conflicting statements that I'm having trouble integrating.
The first statement I find repeated often is that you want to make the desk as small as possible to reduce desk bounce and comb filtering. This makes sense. I'm working ITB with a compact control surface and some analog outboard gear, so I don't need a giant, flat console providing a massive reflective surface.
I see many mastering suites in particular moving to very small desks only 2U or even 1U wide, like the Sterling Modular desks:
Some mastering suites like Skylab go so far as to use only a pedestal for a monitor and control surface, moving all outboard to the back of the room: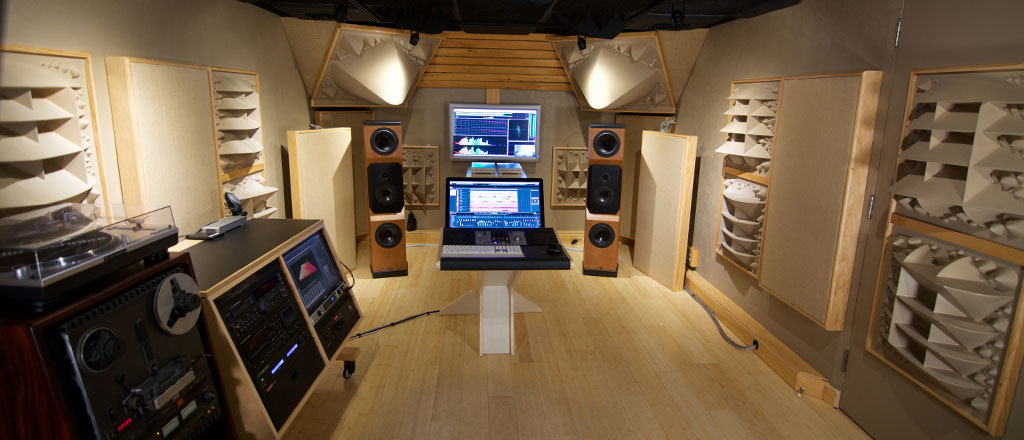 That's intuitive and makes sense to me. But here's where I start to get confused. Sterling goes on about how they intentionally make the desk as transparent as possible by using fabric-covered cutouts to reduce reflective surfaces on the sides and back. Meanwhile, I've also read that a larger and more solid desk can be beneficial by blocking floor bounce, and some very carefully-designed mastering suites seem to go all out with this approach.
Here's Berklee's mastering suite, with a desk and sidecar running the whole width of the room!
And Bob Ludwig, who of course has the luxury of using any setup he could imagine:
How do we reconcile these competing factors of exacerbating desk bounce vs obstructing floor bounce and vice versa? Is it silly to be worrying about getting the desk as small as possible when such high-end rooms seemingly add in as much large furniture as they desire in order to get all their gear into the spots they want to use it? Should I simply be choosing my studio furniture based on ergonomics rather than fretting over the acoustic impacts? Are there situations where prioritizing one over the other becomes more important?
I'd love to hear any thoughts on this before I drive myself mad analyzing and debating choices with my limited understanding of acoustics. I'm going in circles over here, trying to decide what workflow and ergonomic conveniences I could sacrifice in the name of using a smaller desk.